Packages
AIM FOR ADVENTURE PARTIES + EVENTS
The Ultimate Adventure
For birthdays, bachelor parties, school parties, and corporate team-building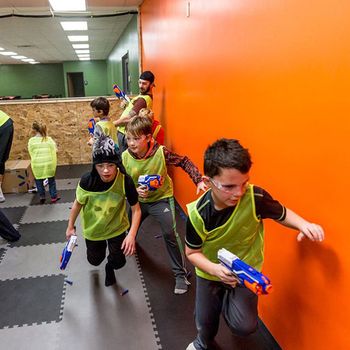 Birthday Parties
We make birthday planning a snap. At TAG, we provide the fun, plus all the necessary equipment and orientation. All you have to worry about is the cake. We guarantee your child and guests will be talking about the party long after it's over.
Feel free to cater in any food and drink you want to make the party special.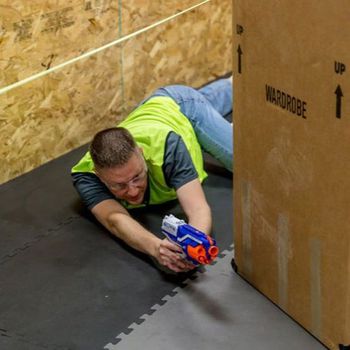 Bachelor Parties
Are you the best man who needs to come up with a plan for good, clean fun? You're in luck. A tactical laser tag party is a great way to celebrate the groom and his upcoming wedding. Invite a group of buddies to compete against each other for bragging rights. You can book time during normal hours and mix in with the crowd or reserve the space for your group only.
We also offer private multi-hour bookings for parties of 20 or more. Contact us for more details.
You are welcome to cater any food and drink you want to make the party special.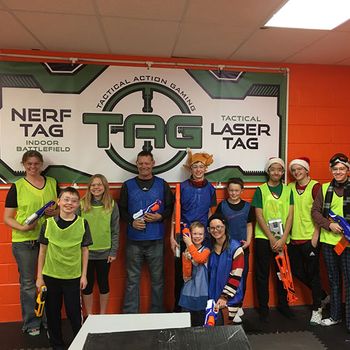 School Outings
Tactical laser tag or Nerf battles are fun and challenging adventures for students of all ages and genders. Who's going to be eliminated first? The football team or the volleyball team? The sophomores or the juniors?
TAG is the perfect place to applaud the end of a season, build team or class chemistry, or celebrate milestones like graduation or prom.
If you have a smaller group, book during our normal hours. If you expect more than 20 students, you may want to consider a private party held during off hours. Contact us for details.
No matter what you need, we'd be glad to help you make it a special event for all the participants.
You are welcome to bring in any food and drink you want to make the party special.
Corporate Outings
It's hard to beat an afternoon of tactical laser tag or Nerf battles if you're looking for a team-building activity. In a fun, competitive setting, your employees will practice collaboration, problem-solving and communication skills. And – unlike golf – you can schedule this fun during any season. Let marketing take on sales, HR take on management. You come up with the teams, or let us group them for you.
​TAG is also a great place to hold your next customer or vendor sales meeting. Show off your new products or services in our meeting area. Then let the fun begin by having clients compete against their sales reps in the tactical laser tag arena. It will be a sales meeting your clients won't soon forget.
We are not open to the public during the week and can schedule a private event at any time. You are welcome to cater any food and drink you want to make the event special.
Join Our Newsletter
Fill out the form below to receive events, coupons, and special offers!